"Love is an evil trick that nature plays on people to get them to breed."
"One makes mistakes; that is life. But it is never a mistake to have loved." — Romain Roland (1866-1944), french writer and Nobel prize winner.
"Q: Do you love me ?
A: What do you think ? That I'm doing pushups ?"
"If love is the answer, could you please rephrase the question ?" — Lily Tomlin.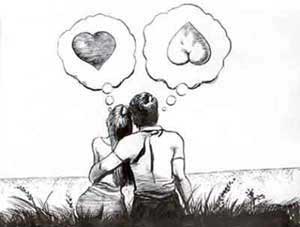 "Love is the answer, but while you are waiting for the answer, sex raises some pretty good questions." — Woody Allen.
"Love doesn't make the world go round. Love is what makes the ride worthwhile." — Franklin P. Jones.
"Love is an obsessive delusion that is cured by marriage." — Dr. Karl Bowman.
"Love is an ocean of emotions entirely surrounded by expenses." — Lord Dewar.
"Love is being stupid together." — Paul Valery (1871—1945).
"Love is the delightful interval between meeting a beautiful girl and discovering that she looks like a haddock." — John Barrymore.
"Love ain't nothing but sex misspelled." — Harlan Ellison.
"Considering all the evil that exists in the world, the fact that all of religion's condemnation is focused on expressing disapproval of two people loving each other proves just how evil religion is." — Jan deBoer.
"It is better to be on penicillin, than never to have loved at all."
"Le plus beau vêtement qui puisse habiller une femme, ce sont les bras de l'homme qu'elle aime. Mais, pour celles qui n'ont pas eu la chance de trouver ce bonheur, je suis là." — Yves Saint Laurent.
"The best way to get over a guy is to get under a new one !"
"Love is the delusion that one woman differs from another." — H. L. Mencken (1880—1956).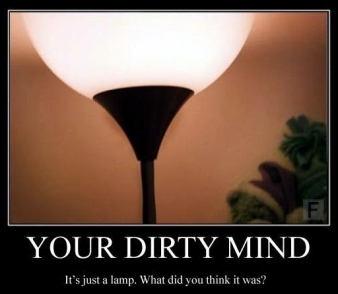 "Love built on beauty, soon as beauty, dies." — John Donne.
"MAKE LOVE NOT WAR (see driver for details)" — Bumper sticker.
"To the world you may be one person, but to one person you may be the world." — Anonymous.
"Sex alleviates tension. Love causes it."
"Love: Two minds without a single thought." — Philip Barry.
"How can I love you if you won't lie down ?"
"Why isn't there some cheap and easy way to prove how much she means to me ?"
"Who would give a law to lovers ? Love is unto itself a higher law." — Boethius (524CE).
"Love is not the dying moan of a distant violin — it's the triumphant twang of a bedspring." — S. J. Perelman.
Tweet